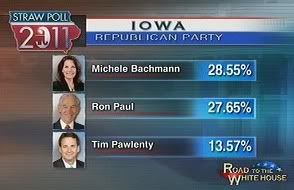 Ron Paul came in a strong second at Saturday's straw poll in Ames, Iowa.
The Congressman gained 27.65% of the vote, closely missing Michele Bachmann's 28.56% by only 152 votes, but easily surpassing Tim Pawlenty, Rick Santorum, Herman Cain and other candidates.
Ames Straw Poll Results
28.56% (4,823 votes) – Michele Bachmann
27.65% (4,671 votes) – Ron Paul
13.57% (2,293 votes) – Tim Pawlenty
9.81% (1,657 votes) – Rick Santorum
8.62% (1,456 votes) – Herman Cain
4.25% (718 votes) – Rick Perry (write-in)
3.36% (567 votes) – Mitt Romney
2.28% (385 votes) – Newt Gingrich
0.41% (69 votes) – Jon Huntsman
0.21% (35 votes) – Thaddeus McCotter
Of the remaining 218 votes, 162 were presumably cast for random minor write-in candidates, and 56 were presumably invalid.
16,892 total votes.
Ron Paul's campaign chairman Jesse Benton said:
"Dr. Paul is surging in this race, and today's results show the strength of his grassroots support and top notch organization. These straw poll results, our growing poll numbers and our strong fundraising shows that our message is resonating with Iowans and Americans everywhere.
Our message was the same in 2007 as it is in now in 2011, but this time we have quadrupled our support. That means our message is spreading, our support is surging, and people are taking notice. We are uniting a coalition of longtime supporters, fiscal conservatives, constitutional conservatives, independents, tea party and anti-big government activists to take on the Washington establishment.
Today, Ron Paul has emerged as a top tier candidate and is a serious contender to win the Republican nomination and the Presidency."