Ron Paul Surging in New Hampshire Following Top-Tier Finish in Iowa
New survey shows Paul with double the poll numbers of the third place candidate, solidifying Paul's position as the 'Anti-Romney'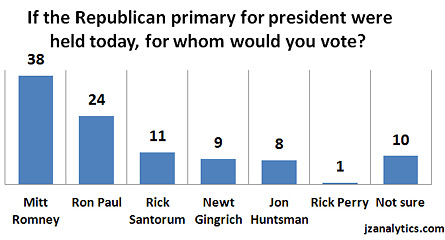 Ron Paul is in second place in the key early voting state of New Hampshire with a remarkable 24% of the vote, according to a new Washington Times/Zogby Analytics Poll [crosstabs].
The poll, taken after the Iowa Caucuses, also shows Rick Santorum "leaping" to 11% (earning him a predictable Washington Times headline that ignores Paul's surge), Newt Gingrich languishing at 9%, Jon Huntsman stagnating at 8% and Rick Perry barely registering at 1%.
"On the heels of his close third place finish at the Iowa Caucus, Ron Paul is polling a strong second place in New Hampshire. From here on out, it is a two-man race between Ron Paul and Mitt Romney given that one of the tickets out of Iowa was a dead-end due to Rick Santorum's glaring lack of viability," said Ron Paul 2012 National Campaign Chairman Jesse Benton.
"There are only two campaigns that have the resources and infrastructure to win the Republican nomination – and one of those organizations belongs to Ron Paul," added Mr. Benton.
The poll of 498 likely primary voters has a margin of error of plus or minus 4.5 percentage points and ten percent undecided, showing Dr. Paul with the potential to catch and surpass Mitt Romney and win the Granite State.
Photo by Gage Skidmore